Peplum shirts are one of those styles I was scared to try. I felt they would make me look pregnant when I am not. So I was pleasantly surprised with how the Love Notions Margot Peplum fit on me.
I knew I wanted to try the style after seeing similarly shaped people on Facebook sewing groups make these and have them look amazing.
Fabric Used:
This pattern as been on my computer for over a year and printed for at least 6 months. But I am glad I waited, because I think fabric type is pretty important for the right kind of drape.
I have learned so much about fabric this year, particularly which ones I need to start avoiding. My previous make (blog post coming soon) was made with french terry and I really like the drape of it on me. It's more stable, which leads it to be less clingy. I chose a similarly more stable fabric here. When I was making the Balloon Mila Dress, I knew this was the fabric I wanted to use. Plus it is purple!
The fabric is reversible, and I used that to enhance the princess seam bodice and chose the swing skirt bottom.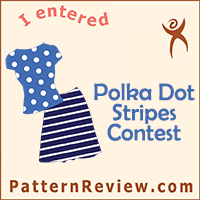 Being that it fit the Pattern Review's Polka Dot and Stripes Contest requirements, I entered both of our tops to the contest.
Pattern Sizes:I made a size medium at the bust that graded out to a large. Fit wise, the top is supposed to be a bit loose so I think I am going to size down one next time.
Pattern Modifications:
Love Notions patterns are drafted for 5'5″ height. Having a short torso and being 5'2″ meant a few length adjustments. The bust line had to move up 1/2″. Then shortened the bottom of the bodice by 1.75″ so that the peplum would graze over my belly. No sway back adjustments this time, but might remove 1/4″ next time. The skirt was untouched.
Do I like it?
I like how it falls on my body, I like the buttery soft feeling of the fabric, so YES! I do like it. It will definitely be added to my daily rotation. I love that I am able to make more garments with less mistakes or redos because of the fit adjustments I make ahead of time. I also understand, that mistakes were bound to happen as I learned what adjustments to do and where. But the ease of making the past few garments for myself has inspired me to make more!
GIRL'S VERSION
As I was cutting my pieces, my daughter wanted a shirt made from the same fabric, even though she has a dress already. She really likes the polka dots. I decided to make the girls version of my top – Love Notions Maggie Peplum.
Size: Her's is a 2T chest blended with a 3T height. I chose the same, princess bodice and swing skirt. The fit is  perfect! I'm going to take a wild guess and say, she likes it. 🙂
My thoughts on twinning:
This is the first time I have made matching anything for us and I'm not sure I will continue. I feel weird wearing the same thing at the same time. Maybe if it wasn't exactly the same, I don't know? 🤔 But it looks so cute when others do it!
I mean, these picutres are cute and all, but I feel weird going out of the house with the same shirt on… In fact, some one had come over, and I quickly had to change before answering.
Ice cream may have been used to appease the child to take more photos! 😛
I want to know: do you twin it with your child? And how have you gained confidence in your sewing skills?
~*~*~
Some links contained in this post may be affiliate links, which means I get a small commission if you purchase through these links and helps keep running this blog. I was not compensated for this post.