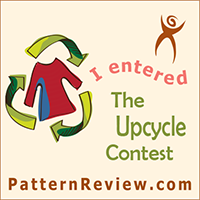 I finally entered a Pattern Review contest!
I have been wanting to for some time but my sewing has been too slow to keep up. My original plan was to make a salwar kurta for Lillian out of a skirt I thrifted. But last week, I remembered it was take your child to work day; and naturally Lillian needed a cute outfit that Mommy made 😎 . I took this opportunity to finally make that shirt dress I have been wanting to make.
Pattern Description: I used the Josephine dress from Violette Fields Threads. It has a curved collar, button up shirt or dress options. It's a looser fit for sure.
Lillian wore the dress for take your child to work day. She had fun at her dad's work, even if it only lasted an hour!
Pattern Sizes: I made a straight size 2 dress.
My thoughts on the pattern: I like shirt dresses – and this pattern is a more casual shirt dress look.
I like the over all concept but wish for a more defined waist line without the use of a sash. There were a few errors in the instructions that I had to re-read and figure out but nothing glaring. It is also a bit more labor intensive for a children's pattern. Lots of steps and pieces to work with.
Pattern Modifications:
Length: I started off lengthening it by 3.5 inches and curving the hem. In the end, I had to go back to the straight hem and cutting off 2 inches. So total length increase was 1 inch after turning up the hem.
Sleeves: I didn't want the length of the original sleeve or the cuff so I measured how much I wanted and added 1.25 inch for elastic casing. Later on I added a bias strip of the dark purple on the sleeve to add a bit of detail.
Body: The original pattern comes with an optional waist sash. Deciding against it, but still wanting a more defined waist, I added an elastic casing around the waist.
Back: I liked the look of a back yoke so I cut yoke pieces from the dress shirt yoke – attaching it using the burrito method.
Pockets: Of course, we have the pockets added to the dress for Lillian's "phone" that really is a magnet of an octopus. Don't ask!
Fabric Used:
A men's dress shirt, size M and a knee length dress, size M.
My original garments .. Please excuse this lighting of this photo. Its the only one I have of this dress before I cut it up.
The dress shirt I was using wasn't wide enough for the button tabs in the front. I knew the fabric was going to be folded, first 3/4 inch and then another 3/4 inch. I folded the pattern piece to remove 1.25 inches from both front pieces. Then attached fabric from the women's dress using a 1/4 inch seam allowance and proceeded with the button tab. You get a nice detail inside and it can't be seen from outside.
My Favorite Part:
I'll be honest – it is the free hand embroidery I did. I was planning on "drawing" some butterflies and flowers but I decided to ask Lillian what she wanted on the dress. She asked for an owl family; only fitting that her parent's garments became her's. It took me little less than 2 hours (I think). Free hand embroidery is something I am very new to but loving the challenge and ability to create one of a kind pieces for my daughter.
Would I sew it again? Would I recommend it to others?
Most probably, but not any time soon. Toddlers need more everyday casual clothes and I want to focus more on building her wardrobe away from ready to wear. Maybe I'll make one each year.